Steve-O of "Jackass" fame was arrested Sunday night around 8pm and later released on bail on at 10:50am Monday 10th August 2015 after his Anti-SeaWorld crane stunt in downtown Hollywood drew more than 80 firefighters and dozens of LA police officers. The whole scene was broadcast on his Facebook channel with a constant stream of photographs and videos being posted during the event.   During the event he wore a "Blackfish" t-shirt which was a documentary about orcas in captivity. There has been an increasing amount of pressure on SeaWorld around orcas over the last several years.
This is his second public demonstration against Sea World after an event last year during August 2014 when he climbed up and attached a crude sucks sign to a San Diego freeway sign. The last stunt was supported by PETA who offered the cover the estimated $7000 in fines.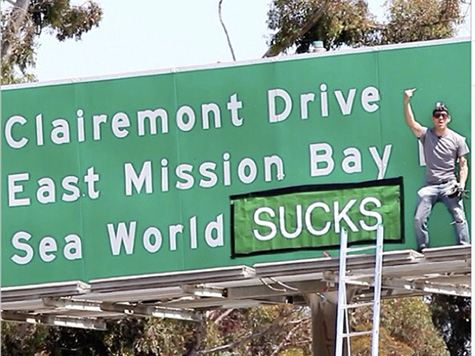 Steve-O is scheduled to appear in court on the 31st August but police investigators are still not sure what he should be charged with yet and how much it might get fined. There has been no official public comment by SeaWorld about the stunt yet.